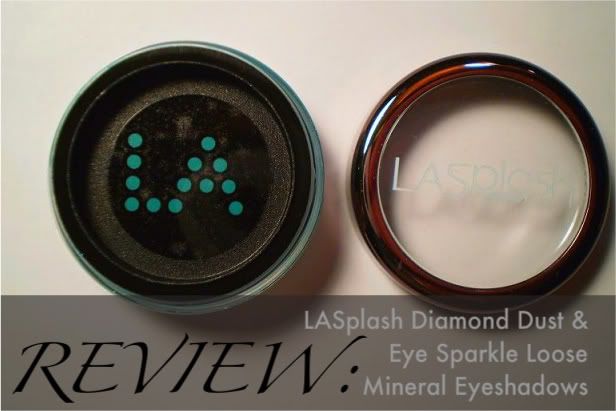 I am absolutely in love. Since MAC reduced the size of their pigments I have been looking for alternatives. I stumbled upon these last summer at Ulta but they were a limited edition product. Now, they are back and this time they are available permanently.
I have tried several loose eyeshadows and pigments from various different companies. Some of them have been great some haven't. A lot of them are very similar but these truly stand out to me. The finish of the Diamond Dust is what makes them so fantastic. If you are familiar with MAC pigments in Gold Mode, Mauvement, Aire de Blu, or Pastorale you've seen this finish before. When you look at the shadow it looks as though it has glass flecks, or diamond flecks, in it. This is my favorite pigment finish so when I discovered a whole line of shadows with that finish I was beyond excited. And to top it off I discovered the mineral eyeshadows and crytallized glitter as well. But onto the the shadows and diamond dust. Here is a quick explanation of the two:
Diamond Dust:
Amazing sparkle. These are the perfect hybrid of a pigment and a glitter. The finish is best described as having what almost looks like crushed diamonds throughout. Amazing. The pictures below don't do it justice.
Eye Sparkle Loose Mineral Eyeshadow:
Very pigmented, very smooth mineral eyeshadows. The way these look in the jar is the way that they look on the skin.
Above: Rainy Daze Eye Sparkle Loose Mineral Eyeshadow
Overall Rating: 5
Cost: $6.99 - $8.99
Availability: Select Ulta locations, cherryculture.com, lasplashcosmetics.com
Pros: Inexpensive, great color selection, great finishes, great pigmentation
Cons: I wish you got more product.
Size: 1.5 grams. At first I was blown away at the $6.99 price tag for such an amazing product but when I realized you only get 1.5 grams I realized it's on par with a lot of loose shadows/pigments
Application: Smooth, easily blended, used wet or dry
Finish: There are a variety - sparkle, frost, satin, metallic
Color Selection: Great. There are neutrals, darks, brights
Take a peek at the video review as well:
PRODUCT PICS & SWATCHES
(Left to Right) Bronzed Platinum (DD), Snowflake (DD), Tampered (DD)
*** NOTE: DD = Diamond Dust / ME = Eye Sparkle Loose Mineral Eyeshadow***
(Left to Right) Rainy Daze (ME), Accentric (ME), Sea of Gold (ME)
(Left to Right) Platinum (DD), Enchanted Forest (DD), Dragon Dust (DD)
(Left to Right) Engaging (ME), Unsolved (DD), Copper Glow (DD)