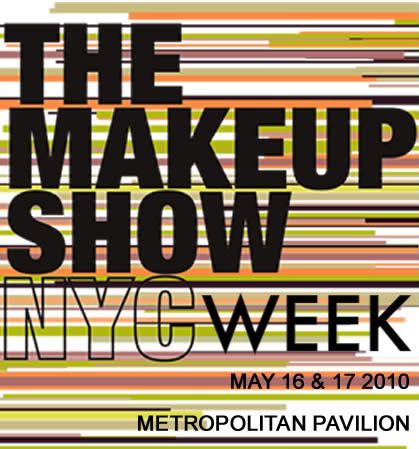 So, if you have been reading my posts thus far you know that Monday was a rough morning for me. But, I pulled it together and it ended up being the best day of my entire trip to NYC. Let me give you a little backstory (I love backstory - LOL). I was leaving the show on Sunday. I decided to stop by Duane Read to pick up a few things and then hop back on the train to my hotel. Well, who do I see as I'm making my way to the intersection???? DANY SANZ! For those who don't know, and I can't imagine that could be many of you, Dany Sanz is the creator of the cosmetic line Makeup Forever.
I saw that Dany was at the show doing a workshop but I couldn't afford to attend it so I passed. I also saw her walking around the show on Sunday but was too intimidated to walk up and say hello. As it was, she was standing at the crosswalk waiting to cross the street and I couldn't decide whether to walk up and say anything. But, I kept thinking A) What are the odds that I'd run into her? B) Suck it up and seize the opportunity. She was speaking to someone so I waited for a pause in the conversation and tapped her on the shoulder. She turned around and I introduced myself and told her that I just wanted to meet her and that I loved the brand. Well, as luck would have it, she was with a group of people one of which turned out to be a PR rep. She walked over, introduced herself and asked if I attended the blogger preview for the show. I explained that I'd missed it. Well, you could have knocked me over with a feather for this next part. She shared that there would to be a another, much smaller blogger event at the Makeup Forever store and that Dany would be there. I gave her my card, as well as everyone in the party, and she told me she'd email the details. Say whaaaa???? I was so excited. So, that's your backstory. Onto the story story.
So, Monday morning I get my invitation to the event and see that it's at 4:00PM. Well, like I said in my Day 2 post, I didn't get to the show until it was half over, which was around 2:00PM. That gave me less than two hours to see the show and then head over to the MUFE store for the event. Me being me, I cut my time so close that I was walking out of the pavilion on my way to the store at about 3:50PM. I knew the store was several blocks away so I power walked there. I arrived huffing and puffing, with shin muscles so tight they felt like they'd snap. But, I was there!
(Left)
The table at which we were seated to listen to Dany speak
(Right)
The amazing mini cupcakes we were provided to snack on. I had about 5. Sooo good.
I ran into Felicia from This That Beauty, who I had been trying to catch up with all weekend. We chatted for a sec and then it was time for the event to begin. We were all there for the release of Makeup Forever's latest innovation - Aqua Cream. I had heard raves about it from other bloggers but this was my chance to hear about it from the source.
Dany walked in, took a seat and got right to it. Aqua creams have been a couple of years in the making. This was a particularly difficult product to produce because A) It's created with volatile, or evaporating, oils which....well...evaporate. B) The product had to be created with ingredients that are sure to be safe for the skin. C) The materials used to create it are expensive but it had to be available at a reasonable price point. D) There is a level of quality and excellence that is expected of Makeup Forever so the product had to live up to that and do what it says it does.
Here are a few other things that Dany shared with us:
She, herself, worked with 4 different chemists to perfect this formula.




Aqua creams came about at the request of her friends in the industry. They wanted a product that was TRULY waterproof. There are a lot of products that are water RESISTANT but none that truly had the stabilty to withstand water completely.




The formulation, the result you get from a product, is the most important thing to her. Although, most people assume she's focused more on the creativity of a product.




She loves extremes. She's very proud that professionals and the average consumer alike enjoy and use her products.




The product was tested for a year in the water by aquatic ballerinas.




I got a chance to swatch one of the creams. It is very smooth. The color I chose was #14. I can't wait to play with more of these. Here is a little more about the creams:
Expect about 10-12 hours of wear.


Available at Sephora.com and Sephora locations. (June 2010)


There are 21 shades - 15 for the eyes & cheeks, 6 for the lips and cheeks.



Expect th

e colors for the lips to be a little drying as these they are very long lasting are not specifically formulated as a lip product.


The shades easily layer with each other and other products because they completely dry down. So, try them as a base for your eyeshadow, blush or lip color.


Aqua Creams retail for $22.


We got a chance to mingle and check out the store after the event.
(Left) Some of the product line. (Right) A lookbook near the entrance.
I had an amazing time! How often do you get to sit down and listen to the creator of a brand discuss their latest product and give you the history of its invention???? Dany is really interesting and has a good sense of humor. I don't know if it was that French accent or what but I could have listened to her speak all afternoon. LOL.
Thank you to the team at Makeup Forever. You made this blogger's day!
After the event Adina, from Krasey Beauty, and I hopped in a cab and rushed back to The Makeup Show to catch the last hour.